On the west side of Stockholm, the capital of Sweden, there is a lake called Mälaren.
It is the third-largest freshwater lake in Sweden.
It is named after the Old Norse language of the Viking period.
In addition, numerous historical castles and fortresses have been built around the lake. Thus, the lake has long been associated with Swedish culture and economy.
Please read on to learn more about Mälaren, its characteristics and history, and the historical spots closely associated with the lake.
スポンサーリンク
What is Mälaren?
Mälaren is a freshwater lake located in southwestern Sweden.
In English, it is sometimes referred to as "Lake Malar."
Mälaren is the third largest lake in Sweden after Vänern and Vättern.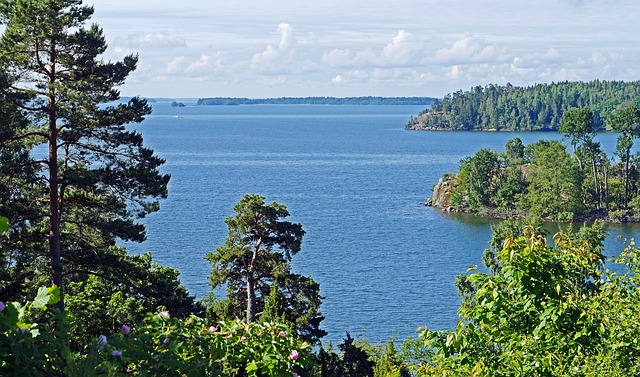 Mälaren covers an area of 1140㎢ and is said to be 64m deep at its deepest point.
By the way, Lake Biwa, the largest lake in Japan, has an area of about 670㎢. So Mälaren is almost twice as large as Lake Biwa.
The name Mälaren is derived from the Old Norse word "mælir," which was used in Scandinavian countries from the 8th to 14th centuries to describe gravel.
Lake in Norse mythology
Mälaren is derived from an Old Norse word spoken throughout Nordic countries in the Middle Ages.
As such, the name appears in old Swedish culture and records.
Mälaren is also used in the Nordic mythology of "Gylfaginning."
Let me briefly describe "Gylfaginning."
Gefion, the goddess of the title, receives an order from Odin, the king of the gods, to "settle new lands."
Gefion taunts Gylfi, the king of Sweden, and makes the lands owned by Gylfi hers. In doing so, Gefion transformed her four sons into oxen to cultivate the land.
Then, rainwater accumulated in the vast heaths created when Gefion cleared the land, and eventually, a large lake called "Mälaren" was born.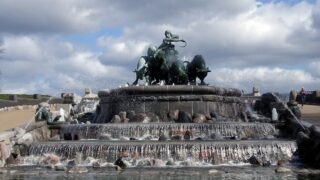 Gefion Fountain: A famous landmark derived from Gefion in Norse mythology
In Copenhagen, Denmark, there is a spot called Gefion Fountain, based on the legend of the goddess Gefion from Norse mythology.The spot is more enjoyable if you study Norse mythology about Gefion beforehand.In this article, I will introduce the Gefion Fountain, a landmark in Copenhagen, Denmark, which originates in Norse mythology, along with the Norse mythology of Gefion, the fountain motif....
Places of interest near Mälaren
Mälaren has long been a part of Swedish history.
Thus, there are numerous World Heritage sites around the lake, including medieval ruins and castles.
In this section, I would like to introduce some of the places of interest in Mälaren.
Gripsholm Castle
Gripsholm Castle is an old castle located on the shores of Mälaren.
It was built as a fortress around 1380 by Bo Jonsson.
In 1526, the castle was seized by King Gustav Vasa of Sweden and used as a residence of the Swedish royal family.
It was also used as a prison for about 60 years from 1713.
Thus, the castle was used for various purposes by those in power.
Today, the castle is open to the public as a tourist attraction, exhibiting collections of great historical value from the 16th century.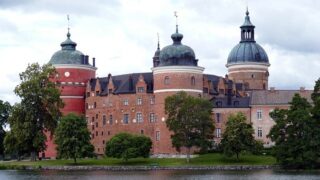 Gripsholm Castle: Ancient castle along Lake Malar in Sweden
On the banks of Lake Malar in Sweden is a castle called Gripsholm Castle.It is an ancient castle built around 1380.It also has a background of being used for various purposes over the centuries, from a royal palace to a prison.This section will focus on Gripsholm Castle, explaining its features, centuries-long history, and what it looks like today....
Drottningholm Palace
On Lovön in Mälaren is Drottningholm Palace, which was registered as a World Heritage Site in 1991.
Drottningholm Palace is a detached palace of the Swedish royal family.
It is also famous for its beauty, known as the "Versailles of Nordic countries."
Birka and Hovgården
Mälaren is home to more than 1,000 islands of various sizes.
In 1993, Björkö island's Birka and Adelsö island's Hovegården were registered as World Heritage sites.
Björkö's Birka is the site of a city that flourished as a trading city for pirates during the Viking Age.
Numerous furnishings, such as ornaments and bronze objects, have been excavated from the ruins of Birka that tell of the trading activities of the medieval period.
The records reveal that the Vikings who occupied Birka had a vast trade route from Eastern Europe to the Islamic world.
Birka also has Sweden's oldest Christian meeting house, built by St. Ansgar in 831.
Meanwhile, Hovgården on Adelsö, adjacent to Björkö, is another archaeological site that was registered as a World Heritage Site along with Björkö in 1993.
The Vikings occupied Hovgården from the 10th to the 11th century.
After they left, the Swedish royal palace was located there.
Hovgården was located just a stone's throw from Birka.
Hovegården also served as the administrative seat of Birka, which at that time had a substantial economic power through trade.
Until the 14th century, when the Swedish capital was moved to Stockholm, Birka, and Hovgården were the foundation of the Swedish economy.
Conclusion
Mälaren is near twice the size of Lake Biwa, the largest lake in Japan.
Its magnificent natural scenery attracts visitors to sightseeing.
Many World Heritage sites around Mälaren, such as Birka and Hovgården, the remains of Viking-era cities, and the Royal Palace of the Swedish Kings.
Mälaren can be reached on a day trip from Stockholm.
When you travel to Sweden, Mälaren should be on your list.