The Temppeliaukio Church in Helsinki, Finland, is well-known for its uniqueness among the numerous churches in the Nordic region. The church, designed by carving out a massive rock within a rocky hill, is a harmonious blend of nature and architecture. In this article, I will introduce the Finnish Temppeliaukio Church, which has a cave-like atmosphere.
スポンサーリンク
Characteristics of Temppeliaukio Church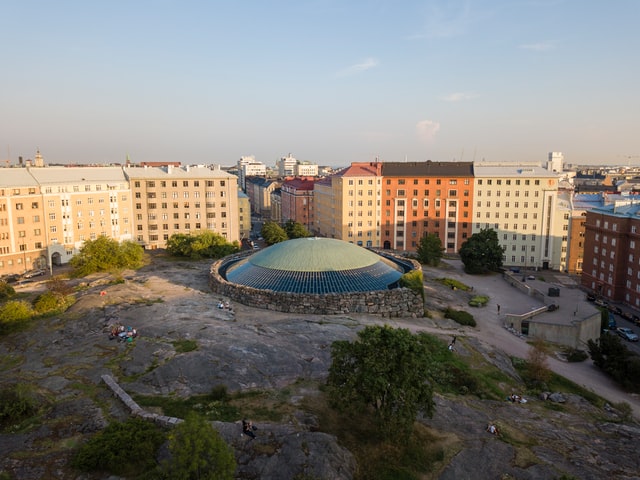 The Temppeliaukio Church is located in the capital city of Helsinki, Finland, and belongs to the Evangelical Lutheran denomination of Christianity. Unlike other churches, this church is built within a space carved out of natural bedrock.
The bedrock dates back to the Ice Age, and the church is situated underground. The excavated space has a hemispherical dome shape, giving it a cave-like atmosphere. Therefore, it is also called the "Rock Church". The Temppeliaukio Church is a highly original church in Finland, where natural and artificial architecture are combined.
The background of the church's construction
The design of the Temppeliaukio Church was undertaken by Finnish architect brothers Timo Suomalainen and Tuomo Suomalainen. They won the Grand Prix at an architectural design competition held in 1961, and construction began afterward. The Temppeliaukio Church was completed in 1969.
Moreover, in the 1930s, there were plans for the construction of other churches, but they were canceled due to the impact of World War II. The construction plan for the church was revived in the 1960s, and the Temppeliaukio Church was chosen.
The interior space with exposed rock surface
The entrance of the church is located above ground, featuring a unique design. As visitors proceed through a passage integrated with the rugged rocky hill, they are greeted by a spacious church interior. Inside the church, there is a granite altar, a golden pipe organ, and benches for visitors to sit on.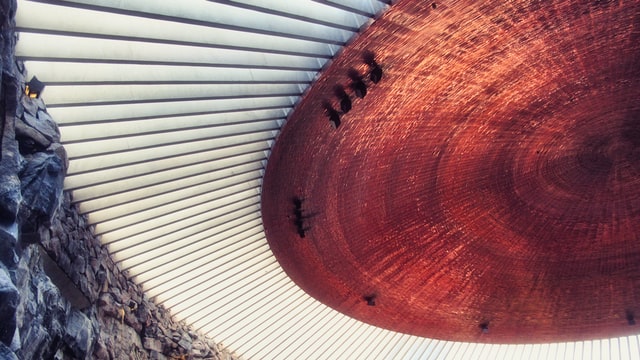 A copper plate with a diameter of 24 meters is installed on the ceiling, supported by glass pillars in a radial pattern. Light filters in, creating a divine atmosphere.
The walls are left with the rock surface exposed, giving the entire church the impression of being inside a cave.
Concerts held utilizing high acoustic effects
The interior walls of the Temppeliaukio Church actually have excellent acoustic properties. Since the excavated surface is intentionally left exposed, the rock walls remain unpainted and in their natural state, creating echoes. Therefore, the interior of the church is like a natural acoustic facility, and while it is usually used for worship and weddings, it is occasionally utilized as a concert hall.
Conclusion
The Temppeliaukio Church is a unique church built in a space carved out of solid rock in Helsinki, the capital of Finland. It was completed in 1969, and the Finnish architect brothers Timo Suomalainen and Tuomo Suomalainen were responsible for the design. It is easily accessible from the city center of Helsinki and has become a popular spot for worshippers and tourists alike.