In Copenhagen, Denmark, there is an amusement park called Tivoli Gardens.
Tivoli Gardens is one of the oldest amusement parks in the world in operation today.
The Danish writer Andersen also visited the park.
In this article, I would like to focus on Tivoli Gardens, which has entertained many people since its establishment in 1843.
スポンサーリンク
What is Tivoli Gardens?
Tivoli Gardens is open in Copenhagen, the capital of Denmark.
Tivoli Gardens is one of the oldest amusement parks in the world.
Its foundation dates back to 1843, more than 170 years ago.
Tivoli Gardens has conveniently located just a one-minute walk from the nearest train station, Copenhagen Central Station.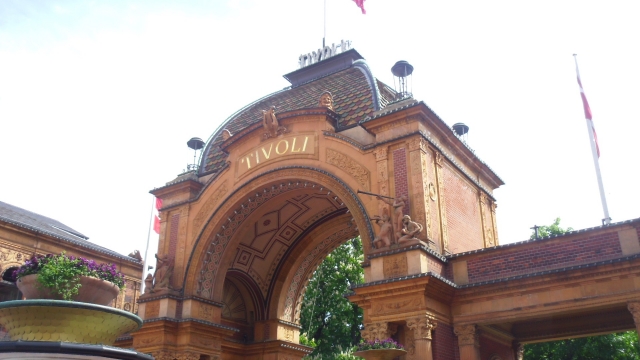 The park is a beautiful sight like a fairyland.
In Tivoli Gardens, children enjoy the attractions during the daytime.
From evening to nighttime, the park is lit with twinkling lights and transformed into a space where adults can enjoy illumination and stroll around.
In addition, various seasonal events, such as Halloween in the fall and Christmas in the winter, are held in the park.
History of Tivoli Gardens
The founder of Tivoli Gardens was Georg Carstensen, a subject of King Christian VIII of Denmark in the 19th century.
He created Tivoli Gardens in 1843 in Copenhagen as a recreational facility for the citizens, based on the concept of "a place where there is no class discrimination, and everyone can enjoy themselves."
An amusement park where everyone can play regardless of class might seem obvious from a modern perspective.
However, in the 19th century, when the status system was more rigid than today, it was considered an unprecedented and pioneering idea.
Also, Tivoli Gardens is the third oldest amusement park in existence.
The oldest amusement park is Dyrehavsbakken, founded in 1583. It is located in the northern part of Zealand, Denmark.
Next is Wurstelprater, founded in 1766 in Vienna, Austria.
And Tivoli Gardens has been visited by many famous people in the past.
Hans Christian Andersen, one of Denmark's most famous children's storytellers, was one of them.
It is said that he visited the park many times to plan his work.
Walt Disney, the founder of the famous Disneyland theme park, also visited Tivoli Gardens and was inspired by the park.
Tivoli Gardens is therefore said to be the model for Disneyland.
Opening hours and admission fees
Tivoli Gardens has open and closed periods and is not available all year round, so visitors should be careful when touring the park.
There are three main periods during which the park is open.
The summer season, from the first week of April to late September; the Halloween season, from mid-October to early November; and the December season, from mid-November to December 31. And it is open during the Christmas period from mid-November to December 31.
The park is closed during all other periods.
The park is open until midnight, which is rare for an amusement park.
Visitors can play from 11:00 to 23:00 on Sundays through Thursdays until 24:00 on Fridays and Saturdays.
Many couples enjoy strolling through the garden, which is illuminated at night.
Also, admission fees may vary slightly depending on the season.
In addition to single tickets, tickets that allow admission for the entire year are also available, similar to the Season Pass for Disneyland.
Admission is also possible with the Copenhagen Card, a free tourist pass.
This pass allows unlimited use of tourist attractions and public transportation in Copenhagen for a certain period.
The Copenhagen Card also gives you free admission to the same facilities as the other cards, so please be sure to take advantage of it when you travel to Copenhagen.
Just to remind you, the admission fee to Tivoli Gardens is separate from the cost of individual attractions.
Therefore, you must pay an additional fee to purchase tickets to ride the attractions.
You can either pay for each attraction one at a time or purchase an unlimited ride ticket.
The latter is recommended for those who feel it is difficult to purchase a ticket each time they visit.
Park Attraction Information
The area is about 85,000 ㎡ and has attractions such as a Ferris wheel, a merry-go-round, and a roller coaster.
In addition to the attractions for children, there are also free falls and other screaming attractions for adults.
In addition to the attractions, Tivoli Gardens is also used as a venue for artists to perform.
Artists and young people gather on a stage in the park's center every Friday for live performances.
The Peacock Theater, an open-air theater, also hosts pantomimes and other traditional shows.
More than 50 restaurants and souvenir stores are open for visitors to take a break. Restaurants worldwide offer Danish cuisine and other Japanese, Western, and Chinese specialties.
One of the most famous restaurants is Grøften, the oldest restaurant in the park, which has been operating in Tivoli Gardens since 1874.
Here you can enjoy traditional Danish cuisine such as Smørrebrød.
Conclusion
Since its establishment in 1843, Tivoli Gardens has been Denmark's oldest amusement park, attracting visitors from all over the country and abroad.
The park has everything from a relaxing carousel to thrilling attractions.
With music concerts and nighttime illumination, there are more attractions than you can visit in a single day.