Dala horse is a craft from the Dalarna region of Sweden. It is said to have originated as a wooden horse carved by loggers to pass the time at night.
In Nordic countries, it has become a popular item for interior decoration and, as a gift, a horse figurine that brings happiness.
I want to introduce the Swedish handicraft Dala horse in this article.
スポンサーリンク
Crafts originating from Dalarna
Dala horse is one of Sweden's traditional crafts from the Dalarna region.
The Dalarna region is a place of rich nature, surrounded by deep forests and lakes.
Dala horse is produced by artisans in a workshop near Siljan lake in Dalarna.
The model horse for Dala häst is believed to be the Dalarna horse, which is native to Norway.
"Dala" in Dala horse means "Dalarna," the region of origin. On the other hand, "häst" means "horse" in Swedish.
In Sweden, it is commonly called Dalahäst.
And it is also known as the "Dalecarlian horse."
Vivid colors and floral patterns
Dala horses are not mass-produced by factory machines but are made entirely by hand, one by one.
The entire process, from wood carving to coloring, is handmade in the workshop, so every shape and hue is slightly different. No two are alike.
The unevenness and warmth unique to the handmade nature of the Dala Horse are also its charms.
It is painted in red, blue, pink, and other varied colors and designed with floral patterns.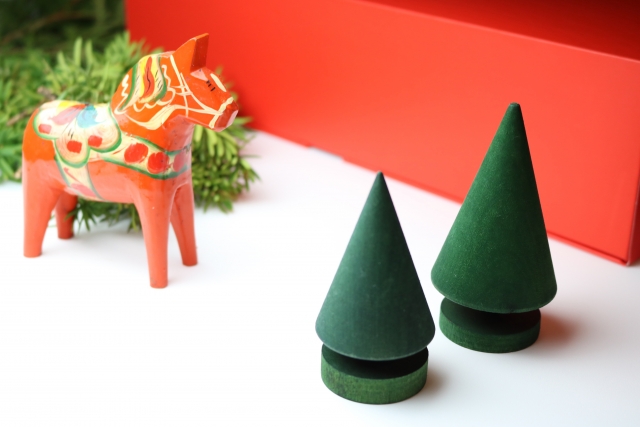 Traditional Dala horses are painted red. This red color was once painted with copper from mines.
The floral pattern on the Dala horse is called "Kuribits," a traditional design from the Dalarna region.
Popular items are appreciated as gifts
It is believed that when a Dala horse is placed in a home, it brings good luck to its owner.
Therefore, the Dala horse is a symbol of happiness.
It is a favorite gift for celebrations such as births and weddings.
It is also a popular gift for loved ones.
Dala horses come in various sizes and colors, from small sundries the size of a 5 cm palm to figurines measuring over 30 cm.
It is roughly the same size as the carved wooden bears in Japan, a souvenir from Hokkaido.
In Sweden, Dala horse's illustrations are used as designs for various goods such as bags, tableware, household goods, and figurines.
In the Swedish city of Avesta, the world's giant Dala horse was installed in 1989, standing 13 meters tall and weighing 66.7 tons.
Originated as a wooden horse by a logger
The history of Dala horses is said to have originated in the early 18th century in the Dalarna region, where loggers carved wooden horses to pass the time.
In the Swedish winter, daylight hours are short, and it soon becomes dark outside in the evening.
When the sun went down, and the loggers finished their work, they inevitably had some free time in the evening.
So, while sitting in front of the fireplace, they used surplus wood to make wooden carved horses as toys for their children.
The reason for the horses is that in the Dalarna region, horses have long been responsible for transporting wood and were indispensable animals for cultivating forests, fields, and daily life.
There is also a theory that wooden horses were made as an expression of longing for horses, as it was difficult for poor villages to have horses at that time.
Dala horses were initially sold by poor people in various places and were used as a commodity for earning a living.
As time went by, the Dala horse became an established toy for children.
At first, it was made by loggers in the Dalarna region only during the winter months.
However, from the 20th century onward, it became a year-round industry in the Dalarna region.
An important turning point for the Dala horse was the 1939 New York World's Fair.
The 3-meter Dala horse was exhibited at the Swedish International Fair and became the talk of the town.
Since then, it has spread all over the world.
Conclusion
Dala horse is a traditional Swedish craft.
It is based on a wooden horse carved by a lumberjack in his spare time during the 18th century.
The texture of the wood and the beautiful red color give it a unique warmth that enriches the heart even in the cold, harsh Swedish winter.
If you give Dala horse as a souvenir, it will surely please you.