Turning Torso is a skyscraper in the Swedish city of Malmö.
It was built in 2005 by a Spanish architect, and its unusual design, which soars in a twisting circle, has become a topic of conversation.
Here I would like to introduce Turning Torso, from its most distinctive feature, the twisting design, to the building's interior structure and the background of its architecture.
Please read on if you are interested in Malmö's tourist attractions and Swedish architecture and design.
スポンサーリンク
What is Turning Torso?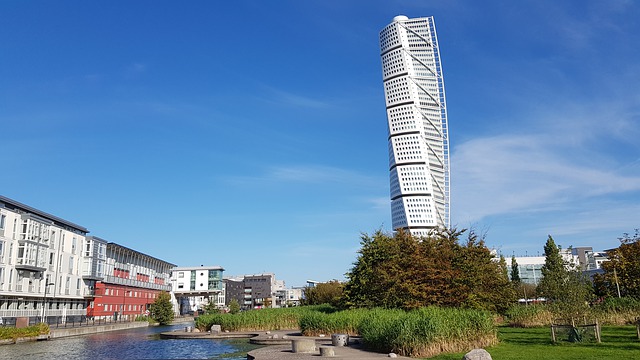 At the southern tip of Sweden lies Malmö, the country's third-largest city.
Malmö is home to the city's iconic skyscraper, the Turning Torso, which will be featured in this article.
Turning Torso is located in the western part of Malmö in a redevelopment area called Västra Hamnen and is classified as a luxury apartment building in Malmö.
Turning Torso, inaugurated in Malmö on August 27, 2005, is a 193-meter-long building with 54 floors.
It is the tallest building in Malmö and the tallest building in the Scandinavian Islands.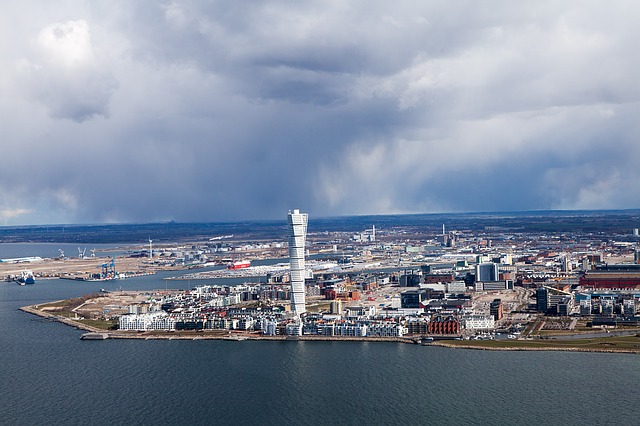 Turning Torso has a modern and stylish appearance, with white as its base color.
Particularly eye-catching is the unique design of the rectangular building, which stands twisting upward into the sky.
I will explain more about this design later, but there is no doubt that this unique design is also a significant factor in Turning Torso's worldwide fame.
The building's first through tenth floors are corporate office space.
In addition, the 53rd and top 54th floors are used as conference rooms.
It will be very progressive to hold meetings with a view of Malmö city and the sea.
On the other hand, the 11th to 54th floors are residential floors where citizens live, with 147 rooms.
The rooms are of interest, but unfortunately, the interior of the building is not open to the public, as the residents are still living there.
Malmö Overview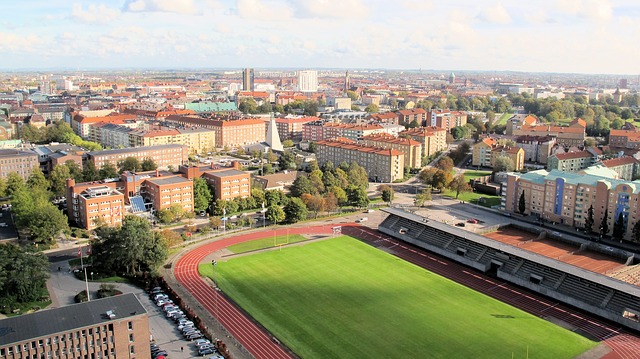 The Swedish city of Malmö, where Turning Torso is located, may not be a name you hear as often as Stockholm or other cities.
Here I will explain what kind of city Malmö is.
Malmö is the southernmost city in Sweden's Skåne County.
Malmö is the third largest city in Sweden, after the capital Stockholm and Gothenburg.
It is also a port city with a magnificent view of the sea, and across the Øresund strait is Denmark.
In 2000, Øresund Bridge was built between Malmö and Denmark, making it possible to access Malmö from Denmark by car or train.
Malmö is also where many medieval buildings, such as Malmö Castle and brick streets, remain.
Sweden and Switzerland remained neutral during World War II, and the city remained largely untouched by the war's ravages.
Alongside the historical landscape are areas with significant development in recent years, such as the redevelopment area west of Malmö, where Turning Torso is located.
Twisted design features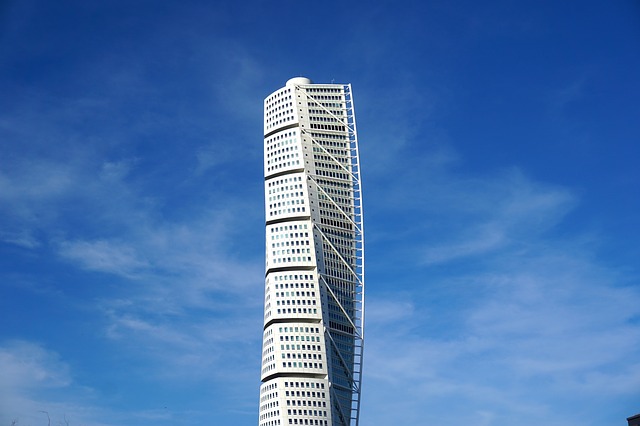 Turning Torso is the tallest building in Nordic countries, but what is most distinctive is the building's design.
As mentioned briefly, Turning Torso has a unique design that twists clockwise toward the sky.
Turning Torso's design consists of a total of nine stacked blocks, with each block consisting of five floors.
The design gradually twists the top and bottom of the blocks as one moves to the upper floors, with a maximum twist of 90 degrees from the first floor to the top floor.
This formative beauty has also received high acclaim domestically and internationally, and in August 2015, it was recognized by the Council on Tall Buildings and Urban Habitat.
(CTBUH), an international NPO involved in the operation and design of high-rise buildings.
Designed by Spanish architect Santiago Calatrava
The man behind Turning Torso is a Spanish-born architect named Santiago Calatrava.
Born in Spain in 1951, Mr. Calatrava worked as an architect, mainly designing public facilities such as train stations.
In terms of famous buildings, for example, he designed the stadium for the 2004 Athens Olympics.
So what exactly inspired Santiago Calatrava to build Turning Torso?
Malmö used to be a prosperous industrial city with a thriving shipbuilding industry.
However, in the 1970s, the shipbuilding industry in Malmö gradually declined due to the rise of Japan and China, where labor costs were lower.
In response to this situation, Malmö proposed a plan to build a bridge between the town and Denmark as part of the city's economic revitalization project. It held a competition for the architect in charge of the project.
Santiago Calatrava was one of those who entered the competition.
Unfortunately, Mr. Calatrava was not selected for the bridge competition.
However, the city of Malmö was so impressed with his preliminary design proposal that they asked him to design a new building in addition to the bridge.
This is how the Turning Torso was born, now the symbol of Malmö.
Conclusion
The giant skyscraper in Nordic countries, designed by Spanish architect Santiago Calatrava, is a landmark building in Malmö and a famous spot where many people come to take pictures.
Not only is it a highlight of Swedish sightseeing, but Malmö is about 30 minutes by train from Denmark, so you can also head there as a day trip between sightseeing in Denmark.
Why not add Malmö to your Nordic countries' travel plans?