Iceland, known as a volcanic powerhouse, is famous for its geysers where underground water heated by geothermal activity erupts with a roaring sound.
There are many geysers in Iceland, both large and small, but Strokkur Geyser is the most popular among tourists.
In this article, I will focus on Strokkur Geyser, which is included in the Golden Circle tour, a classic sightseeing route in Iceland, and introduce its features, attractions, and accessibility.
スポンサーリンク
What is Strokkur Geyser?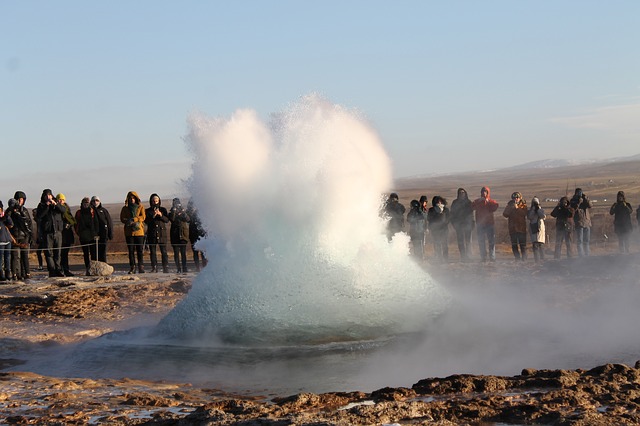 Iceland is the only island nation in the North Atlantic among the Nordic countries.
Due to its location on the border between two continental plates, Iceland, like Japan, is a country with active volcanic activity.
In addition to geothermal power generation using heat from volcanoes, Iceland has many natural attractions such as hot springs and geysers that are fed by heated groundwater.
Strokkur Geyser, which is discussed in this article, is one of the most popular geysers among tourists.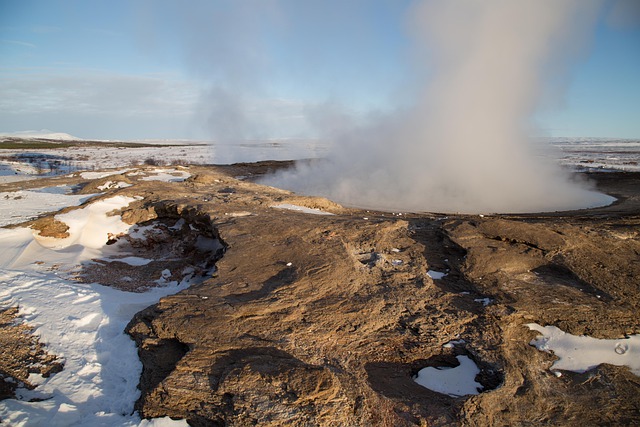 Strokkur Geyser is located in the geothermal area around the Hvítá River in the Haukadalur Valley in southwestern Iceland.
By the way, "strokkur" means "churn" or "stir" in Icelandic.
Strokkur Geyser has been active for over 1,000 years and still erupts regularly, spewing hydrothermal water every 5 to 10 minutes.
The water can shoot up to over 20 meters high, making it an awe-inspiring sight.
A famous spot along with the Geysir geyser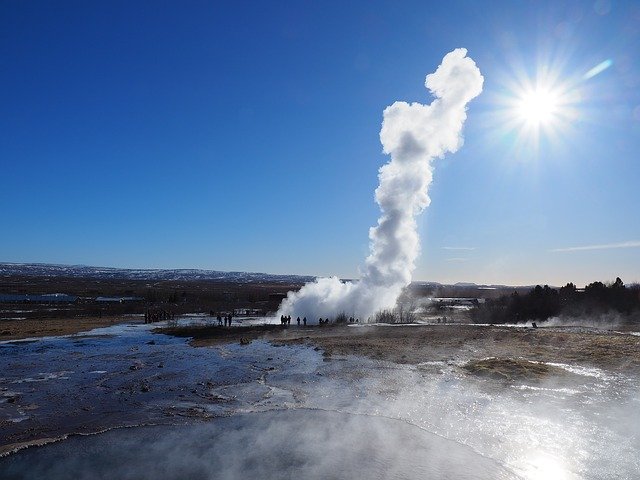 In fact, in the same area where Strokkur Geyser is located, there is also Geysir, the largest geyser in Iceland.
Geysir spouts hydrothermal water over 60 meters, almost three times the height of Strokkur Geyser.
Geysir, which represents Iceland, is world-famous and was the origin of the English word "geyser."
However, Geysir peaked in activity in the 19th century and gradually became less active after 1935.
While it still spouts hydrothermal water about three times a day, it depends on your luck whether you can see it during your trip.
Therefore, Strokkur Geyser, which erupts every 5 to 10 minutes, is now the main attraction on the tour.
Points to enjoy Strokkur Geyser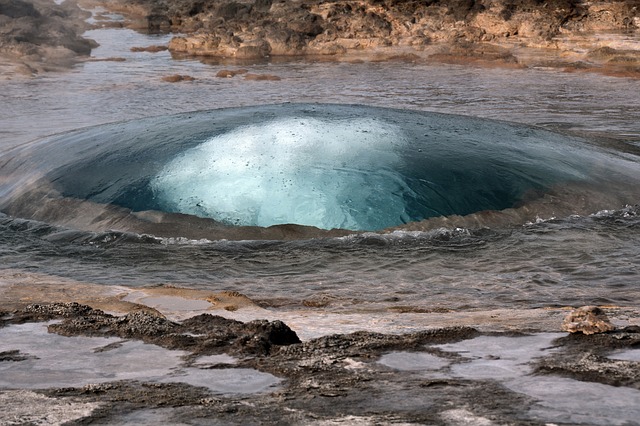 The Haukadalur Valley area, where Strokkur Geyser and other geysers are located, is about 80 km northeast of Reykjavik, the capital of Iceland, and takes around 90 minutes to reach by car.
For sightseeing, it is recommended to take a guided tour or rent a car if you are going on your own.
Since the geysers spew out hot boiling water, be careful not to get too close and burn yourself.
There are walking paths around the geysers for safety, but be aware that depending on the direction of the wind, the hot water that is ejected may fly towards you.
Conclusion
In Iceland, a volcanic country, there are geysers throughout the country where underground water heated by magma erupts, allowing visitors to directly experience the dynamism of the earth.
Strokkur Geyser is one of these geysers and is a popular alternative to Geysir, which is currently inactive.
The geysers can spout hydrothermal water as high as 20 meters and erupt as frequently as every 5 to 10 minutes.
As the geysers erupt frequently, visitors do not need to worry if they miss one.
You can admire Strokkur Geyser for as long as you want until you get a satisfactory picture.