Briksdal Glacier is one of Norway's richest natural landscapes.
Briksdal Glacier is a tributary of Jostedal Glacier, the largest and most powerful glacier in Europe, and offers fantastic blue-white valley beauty.
Here I would like to introduce Briksdal Glacier in Norway in detail, from its features to accessibility.
If you are interested in Norway's nature and tourist attractions, please refer to this page.
スポンサーリンク
Briksdal Glacier Features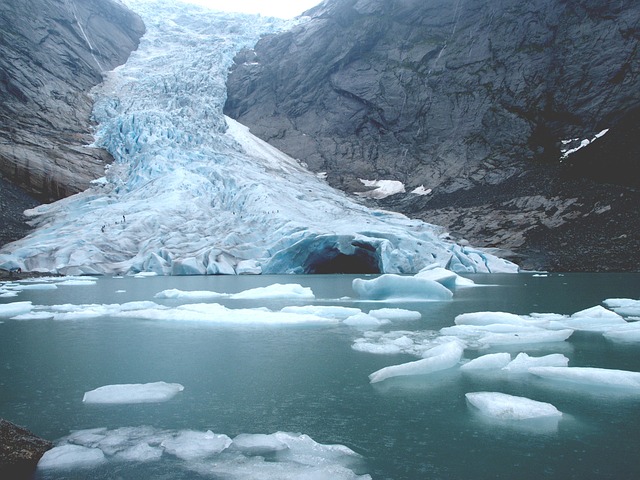 The Briksdal Glacier in Scandinavian Norway is a natural glacier formed over millions of years.
The Briksdal Glacier is one of the tributaries of the Jostedal Glacier, the largest glacier in Europe, and is up to 800 meters long.
Briksdal Glacier is characterized by its unique shape, called a suspension glacier, which flows between the mountains.
The shape of the glacier as it hangs along the mountains is a spectacular view that can only be created in the frigid climate of Northern Europe.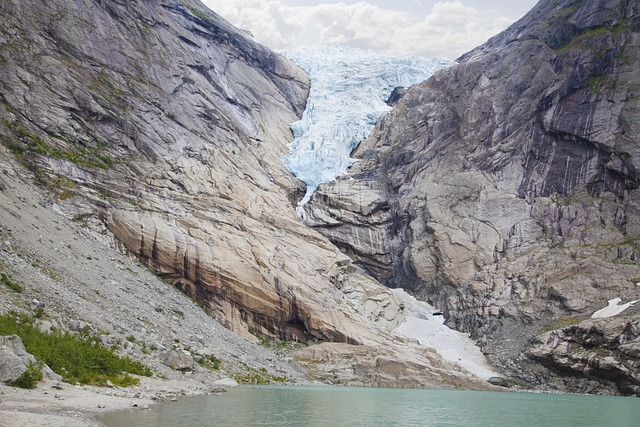 Briksdal Glacier is also the site of Jostedal National Park, which was recognized as a national park in 1991.
The surrounding facilities, such as a glacier sightseeing information center, souvenir stores, and restaurants, are all available to assist travelers heading to Briksdal Glacier.
Nature spots often have steep paths to their destinations.
Briksdal Glacier, however, is a relatively accessible place.
Briksdal Glacier is a 45-minute walk from the starting base.
There are also "troll cars," open vehicles that look like jeeps, that operate in the vicinity of the glacier.
One of the tributaries of Jostedal Glacier
Briksdal Glacier is one of the tributaries branching off from the massive Jostedal Glacier.
The mainstream, Jostedal Glacier, is located in western Norway and is known as the largest glacier in Europe, with an area of 487㎢ and a thickness of 400m at its deepest point.
It is said that more than half of the Jostedal National Park is covered by the Jostedal Glacier.
Impacts of Global Warming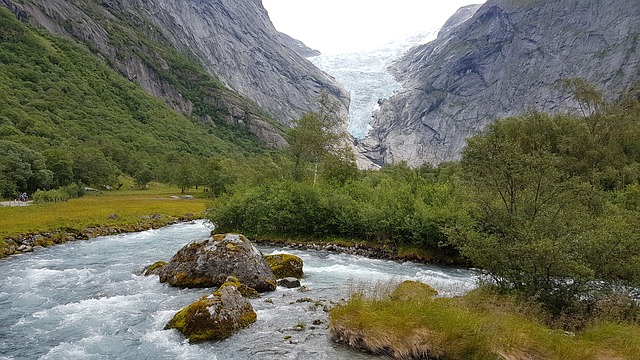 Briksdal Glacier is a fantastic natural beauty created by glaciers, but unfortunately, its spectacular scenery has been disappearing in recent years.
The cause is the melting of glaciers due to global warming.
Global warming is causing temperatures to rise to unprecedented levels, and many glaciers, including the Briksdal Glacier, are shrinking year by year.
According to a 2012 report, Briksdal Glacier has lost 160 feet of ice in just a few short months.
The loss of the large ice field at the summit is also feared, and trekking and ice climbing, once possible, are now prohibited.
Conclusion
Norway's nature has been created over a long period of time, and the bluish glaciers are a spectacular sight to behold.
On a clear day, you can see the mysterious glaciers glistening in the sunlight.