Grundtvig's Church in Copenhagen, the capital of Denmark, was built in 1940 as a memorial to the Danish philosopher Nikolaj Grundtvig.
The church was designed by the family that founded LE KLINT, now Denmark's leading Scandinavian furniture and lighting brand.
In this article, I will introduce the features and history of Grundtvig's Church and the Klint family, who designed the church in detail.
スポンサーリンク
Features of Grundtvig's Church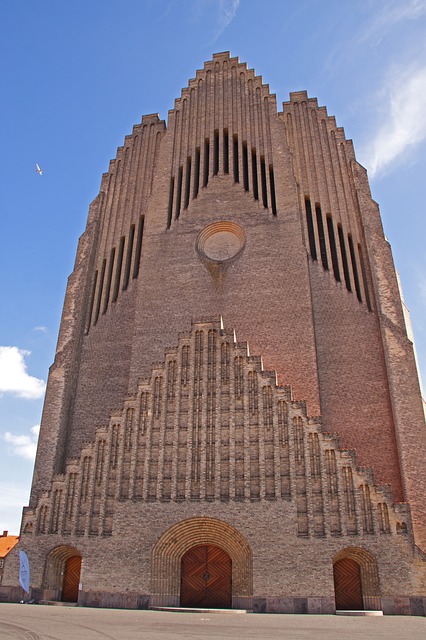 Grundtvig's Church was built in 1940 in the Bishpebjerg district of Copenhagen, Denmark.
Grundtvig's Church was named after a Danish philosopher named Nikolaj Frederik Severin Grundtvig.
Grundtvig's Church was built to commemorate the philosopher Nikolaj Grundtvig.
Construction of the church began in 1913 by Danish architect Peder Vilhelm Jensen-Klint.
His son, Kaare Klint, took over the construction completed in 1940.
Grundtvig's Church has a unique appearance with a 49-meter-high vertical façade and an uneven, stepped roof.
The church is designed in the Expressionism style.
Expressionism is an artistic style that emerged in Europe in the early 20th century, especially in Germany.
In contrast to Impressionism, which was once the predominant style in Europe, which expressed the external world, expressionism is characterized by its depiction of the inner world, such as emotions.
The Klints, who designed Grundtvig's Church
Grundtvig's Church was built by Peder Vilhelm Jensen-Klint and Kaare Klint, two generations of the Klint family.
Construction began in 1913 but was halted the following year when World War I broke out in 1914, and construction resumed seven years later in April 1921.
By 1926, the foundations were built, and after Jensen Klint's death in 1927, his son, Kaare Klint, took over the business.
Kaare Klint carried out the interior portion of the construction, and Grundtvig's Church was completed in 1940, 27 years after construction began.
Jensen Klint, who designed Grundtvig's Church, is a well-known architect often referred to as the "father of modern Danish design."
Jensen Klint began his architectural career in his fifties, and since then, he has created many masterpieces.
He designed many innovative buildings in Denmark based on traditional Danish architecture, such as those with staircase-shaped gable roofs (the most commonly triangular-shaped roof).
His son Kaare Klint, like his father, is also well-known in the design industry and is called the "father of Danish furniture design."
About the "LE KLINT" lighting brand
The Klint family is the founding family of LE KLINT, the famous Danish Scandinavian lighting brand.
P.V. Jensen Klint, the designer of Grundtvig's Church, has created many other works besides the church, one of which is a lampshade with a Japanese origami motif.
The lampshade, with its regularly folded design and beautiful shades of light. In 1943, LE KLINT was founded by Tage Klint, son of Peder Vilhelm Jensen-Klint, to spread the word about this work.
LE KLINT was then extensively and rapidly expanded by Kaare Klint, the younger brother of founder Tage Klint, who worked with his father, Jensen Klint, at Grundtvig's Church.
Today, LE KLINT's products have become a leading brand representing Scandinavia, so much so that they have been selected for the Danish Royal Warrant.
Beautiful church interior illuminated by light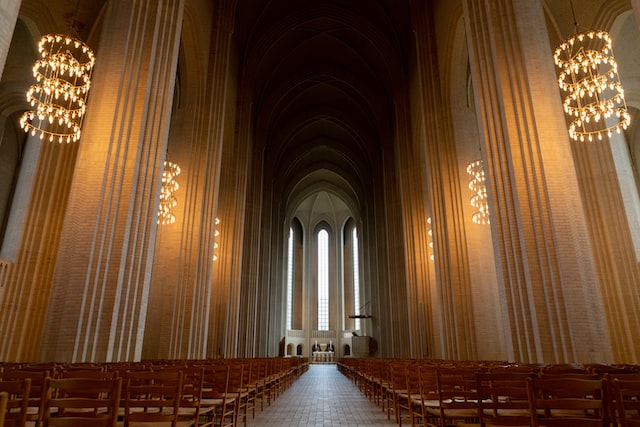 Inside Grundtvig's Church, visitors will find a beautiful interior that incorporates the modern geometric style of Expressionism with bricks in the Gothic style.
The atmosphere is also attractive, with pale light streaming through the windows, creating a divine and magical atmosphere.
The interior of Grundtvig's Church is constructed of yellow bricks, a traditional Danish building material, of which there are approximately 6 million.
The main building of Grundtvig's Church is 76 meters long and has more than 1,400 seats, which is quite large for a church.
And the beechwood seats arranged toward the altar were also designed by Kaare Klint, whom I mentioned earlier.
Inside the church is the largest pipe organ in Scandinavia, with a total length of 11 meters and 4,052 pipes.
In addition, to worship services, the church regularly holds music concerts featuring the beautiful sounds of the pipe organ.
Grundtvig's Church is free to enter, so stop by if you visit Copenhagen.
Conclusion
I hope you have enjoyed my explanation of Grundtvig's Church in Denmark.
Grundtvig's Church was designed by the KLINT family of LE KLINT, a Danish company famous for its sophisticated Scandinavian-designed lighting and furniture.
When you visit Denmark, enjoy the majestic appearance of the church, which incorporates the Expressionism style.