Denmark has a beautiful beach called Bellevue Beach, designed by the architect Arne Jacobsen.
In this article, I would like to introduce in detail the charm of Bellevue Beach, with its simple yet beautiful design throughout the beach.
If you are interested in Jacobsen's design, please read this article.
スポンサーリンク
Bellevue Beach Features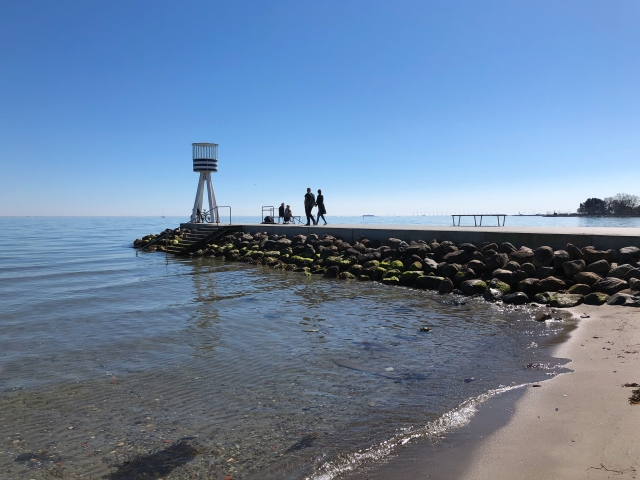 Bellevue Beach is a beautiful beach located in the Bellevue district of Krampenborg, north of Copenhagen, Denmark.
Arne Jacobsen, a leading Danish architect and designer, designed the beach.
Designed by Arne Jacobsen in 1932, the space has a Scandinavian-style simplicity, including a watchtower in white and pale blue.
Bellevue Beach has become famous for Danish citizens who enjoy swimming and strolling.
In addition to swimming at the beach, many people also spend time sunbathing on the sand to enjoy the short Nordic summer and the sun.
Who is Arne Jacobsen?
Arne Jacobsen is a Danish architect and designer.
Sophisticated curves characterize Jacobsen's designs, and he is known as a leading figure in Scandinavia's modern style of architecture.
Jacobsen has designed many famous buildings, including the National Bank of Denmark and, St. Catherine's College, Oxford University in England.
Arne Jacobsen studied design at the Royal Danish Academy of Fine Arts and later worked designing buildings and interiors in Denmark.
In the 1930s, plans were made to build a general resort area with a movie theater and restaurants in Denmark.
At that time, a competition was held for the architect and designer in charge of the resort design, and Arne Jacobsen, highly acclaimed in the country then, was selected.
Beautiful watchtowers and poles by Jacobsen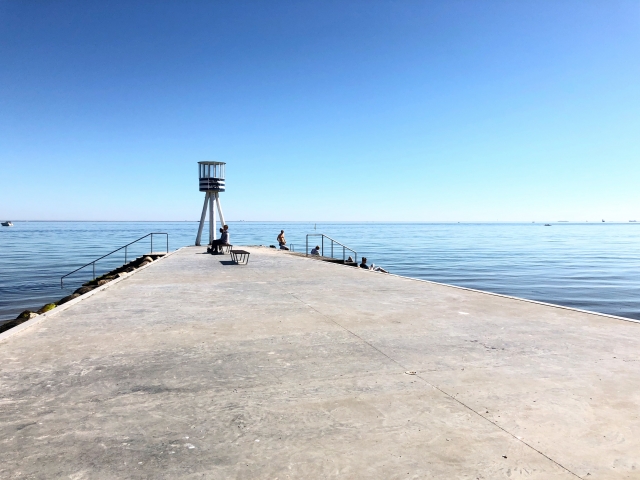 The watchtowers and poles that have become the monuments of Bellevue Beach have a lovely design with a pale light blue and white striped pattern.
Jacobsen also designed the watchtowers and poles based on soft tones reminiscent of Scandinavian design.
The white sand beach is also equipped with a beach volleyball net, allowing visitors to enjoy beach volleyball in the warm sunshine.
The entire space is said to be like a work of art, harmonizing beautifully with the natural scenery of Denmark's magnificent sky, sea, and sandy beach.
Jacobsen also designed the architecture near the beach
Bellevue Beach was initially built in the 1930s as part of a planned mixed-use resort area, and the area is lined with several buildings in addition to the beach.
The "Bellevue Theater" and "Restaurant Jacobsen" are well-designed buildings like the beach.
Arne Jacobsen also designed these buildings.
The entire area is truly a space designed by Jacobsen.
Jacobsen's architectural style can be seen everywhere, making this area a must-see for Jacobsen fans.
Conclusion
I have introduced Bellevue Beach in Denmark; how was it?
Arne Jacobsen, the architect of many famous buildings, designed Bellevue Beach. The essence of Jacobsen's design can be seen everywhere on the beach, making it a popular spot.